Samurai Shakespeare
Early modern tragedy in feudal Japan
​Graham Holderness
ISBN 9781913087197  Hardback    £75.00    Order
ISBN 9781913087180  eBook          £42.50    Order
229mm x  152mm c. 172 pp.
12 illustrations.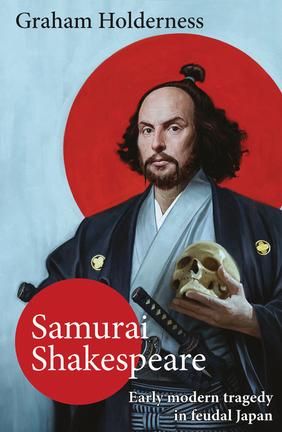 ​About this book​
This highly original new book by a leading Shakespeare expert and cultural critic is a book of convergences.

First, the collision between Japan and Shakespeare, who was imported by the Meiji Empire in the 1880s, along with western technology and culture, as a contemporary dramatist.

Second, the later historicist juxtaposition of Shakespeare's plays with the 600-year long samurai era, as engineered by Japanese cinema and theatre directors such as Akira Kurosawa and Yukio Ninagawa, whose major productions of Shakespeare's tragedies form the focus of this study.

And third, the encounter between these masterpieces of Japanese Shakespeare adaptation and the author's own idiosyncratic perspective on the world of the samurai, shaped over a lifetime of diverse cultural influences.

Here the focus is much broader and more eclectic: 1950s war films, CND anti-nuclear propaganda, Ian Fleming's You Only Live Twice, Edward Zwick's film The Last Samurai. Nothing is off limits in this personal testimony, as the author writes frankly about his wife's Buddhism, his collection of samurai swords, his problems with alcohol, his wanderings in Kew Gardens, his experience of Coronavirus lockdown.

This frank revelation of how a specific hermeneutic perspective is formed throws light on Japanese Shakespeare, on the nature of critical interpretation, and on the role of imagination in our reception of literature and drama.
Contents:
Introduction: One Man's Japan
The Samurai
Narrow Road to the Deep North
You Only Live Twice
The Last Samurai
Tales from Shakespeare
Shakespeare into Japan
Samurai Shakespeare
Chapter One: Hamlet
Hamlet in Japan
Hamlet and the 47 Ronin
47 Ronin
Yukio Ninagawa's Hamlets
Hamlet and Revenge
Samurai Hamlet: Castle of Flames
Conclusion
Chapter Two: Macbeth
Samurai Macbeth: Throne of Blood
Macbeth and History
NINAGAWA Macbeth
Conclusion
​Chapter Three: King Lear
King Lear
Samurai King Lear: Ran
Conclusion
Afterword: Door in the Wall
The Door in the Wall
Floating World
Swords
'Sato's Sword'
Fragments
Conclusion
About the author

Graham Holderness is a writer and critic who has published, as author or editor, more than sixty books, many on Shakespeare, and hundreds of chapters and articles of criticism, theory and theology. His more recent work has pioneered methods of critical-creative writing, exemplified by Nine Lives of William Shakespeare (Bloomsbury/Arden Shakespeare, 2011); Tales from Shakespeare: Creative Collisions (Cambridge University Press, 2014); and Re-writing Jesus: Christ in 20th Century Fiction and Film (Bloomsbury, 2014). He has published several works of fiction: The Prince of Denmark (University of Hertfordshire Press, 2001; EER, 2021); Ecce Homo (Bloomsbury, 2014); Black and Deep Desires: William Shakespeare Vampire Hunter (Top Hat Books, 2014); andMeat, Murder, Malfeasance, Medicine and Martyrdom: Smithfield Stories (EER, 2019). His new novel Ancestors: Adventures in a Foreign Country will be published by Edward Everett Root in 2022.
Reviews
"A valuable addition to the scholarly literature on Shakespeare in Japan, full of fresh insights." – Kaori Ashizu, Otani University, Kyoto

"This is a deeply personal book by one of the most prolific Shakespearean scholars within the English speaking world on his love of Shakespeare and Japan. The book is an unprecedented essay on both Shakespearean tragedy and Japanese Samurai culture, amalgamated in personal and professional, historical and contemporary, literary and political terms". – Ted Motohashi, Tokyo University of Economics